White Rabbit is among the Everafters who talk about Sabrina and Daphne's parents. Through out the books, he is mainly seen accompanied by the Cheshire Cat. Therefore his only known appearances are The Fairy-Tale Detectives and The Inside Story.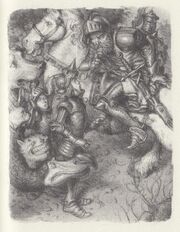 Ad blocker interference detected!
Wikia is a free-to-use site that makes money from advertising. We have a modified experience for viewers using ad blockers

Wikia is not accessible if you've made further modifications. Remove the custom ad blocker rule(s) and the page will load as expected.