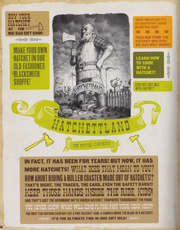 Hatchettland is the name of a theme park that is owned by Howard Hatchett, the supposed hero from the story of Little Red Riding Hood.
The park is set up as a shrine to Howard Hatchett and his "heroic deeds." He also had the house of Red's grandmother brought over and reassembled in his park to attract more visitors.
Despite Hatchett's claims that the park is popular, there are no visitors when the Grimms go there to interview him for Mr. Canis' trial.
Ad blocker interference detected!
Wikia is a free-to-use site that makes money from advertising. We have a modified experience for viewers using ad blockers

Wikia is not accessible if you've made further modifications. Remove the custom ad blocker rule(s) and the page will load as expected.