Ferryport Landing Train Station
is located in downtown
Ferryport Landing
and is the only train station in the town. Situated close to
Ferryport Landing Marina
and to the intersection between
Route 9D
and
Main Street
, the station is close to the main town centre.
The train station first appears in The Fairy-Tale Detectives as Relda Grimm and Mr. Canis are waiting there for the train carrying Sabrina Grimm, Daphne Grimm and Minerva Smirt to pull in. It appears again in The Everafter War when Smirt attempts to take Sabrina and Daphne back to the orphanage in New York, but is stopped in the train by Puck's antics.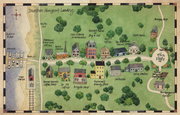 Ad blocker interference detected!
Wikia is a free-to-use site that makes money from advertising. We have a modified experience for viewers using ad blockers

Wikia is not accessible if you've made further modifications. Remove the custom ad blocker rule(s) and the page will load as expected.