Eat Me is an edible magical item that was originally written in Lewis Carroll's Alice's Adventures in Wonderland .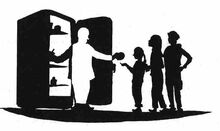 It was featured in the The Unusual Suspects as a small wrapped cake that could make the eater grow in size, as well as their clothes and everything they're holding. Sabrina, Daphne, Puck, and Wendell all eat Eat Me after consuming Drink Me to return to their regular size. It's also effective on animals, as a mouse who consumed Eat Me grew gigantic in size.
See Drink Me for more details.
Ad blocker interference detected!
Wikia is a free-to-use site that makes money from advertising. We have a modified experience for viewers using ad blockers

Wikia is not accessible if you've made further modifications. Remove the custom ad blocker rule(s) and the page will load as expected.