Charles Perrault

Age:
75 at time of death
Occupation:
Author
Date of Birth:
12 January 1628
Date of Death:
16 May 1703
Claim to fame:
Wrote some of the best-remembered fairy tales, including "Tales of Mother Goose"
Family:
Pierre Perrault (father)
Paquette Le Clerc (mother)
Jean Perrault (older brother)
Role in series:
Everafter historian
Charles Perrault was a French writer well known for his fairy tales. 
History
Charles Perrault lived from 12 January 1628 to 16 May 1703. He was born in Paris and lived his life in France. In 1697 he published Tales and Stories of the Past with Morals, subtitled Tales of Mother Goose. (In French: Histoires ou Contes du Temps passé, subtitled: Les Contes de ma Mère l'Oye.)
He is sometimes credited with "inventing" the fairy-tale genre. He did play a large role in defining the genre as something different from the folk tales of old. His fairy-tale versions of stories are often better remembered than folk-tale-like ones from others such as the Brothers Grimm. 
Role in the Books
It is implied that Charles Perrault was an Everafter historian rather than a fiction writer, similar to the Brothers Grimm. Several characters from his stories are Sisters Grimm characters and inhabitants of Ferryport Landing.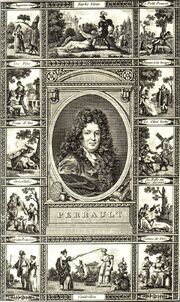 Perrault's Characters in the Series
Cinderella and her fairy godmother
Sleeping Beauty and her fairy godmothers
Little Red Riding Hood and the Big Bad Wolf
(note: The Brothers Grimm later retold many of Perrault's stories, but in most cases, Perrault's versions are the better remembered and the ones used in The Sisters Grimm.)
Ad blocker interference detected!
Wikia is a free-to-use site that makes money from advertising. We have a modified experience for viewers using ad blockers

Wikia is not accessible if you've made further modifications. Remove the custom ad blocker rule(s) and the page will load as expected.